Herbie The Love Bug: Iconic Cars in Cinema, Part 5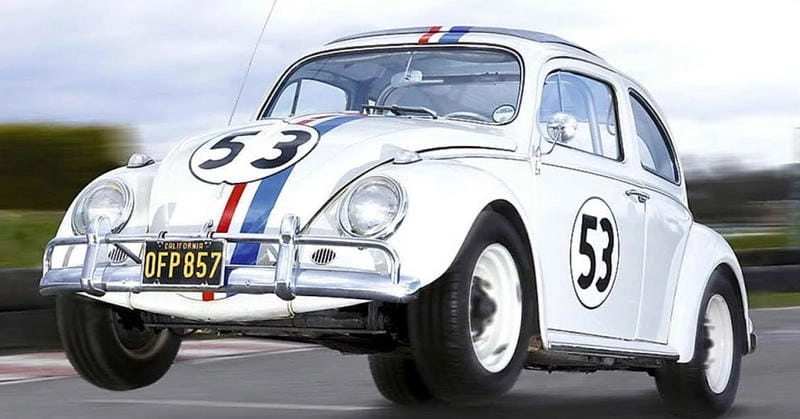 This month's pick in my Iconic Cars of Cinema series is a car that's near and dear to my heart as it's responsible for my lifelong obsession with air-cooled rides.
I'm talking about The Love Bug, as featured in the 1968 American adventure comedy directed by Robert Stevenson and produced by Disney.
The film is based upon the 1961 Book "Car, Boy, Girl" by Gordon Buford. The star of the film is a 1963 "rag top" Volkswagen Beetle who that has a human-like ability to express emotions and an astounding ability to out distance big exotic race cars.
Bitten By The Love Bug
I was first bitten by The Love Bug as a kid, when my my mom took me to see the film at a drive-in movie theater, and I was instantly smitten by The Love Bug, the little car with the big personality.
The plot opens with a down-and-out race car driver, played by Dean Jones, who's headed for the skids.
In a chance encounter, he and his love interest, Michelle Lee, stumble upon this lively little VW Bug that will change their lives forever.
With the help of Herbie, Dean revives his car racing career although at times thwarted by the evil Villain played by English actor David Tomlinson.
Buddy Hackett rounds out the cast as Dean's lovable sidekick who communes with the VW Beetle.
I vividly remember bursting out in uncontrollable laughter as Herbie skipped over the water.
The opening footage of the demolition derby is breathtaking. At that time, it truly was a one of a kind film, considering there were no computer-generated images back then.
The Birth of The Volkswagen Beetle
The original design for the Volkswagen Beetle was conceived by the Hungarian inventor Bela Berenvi in 1925.
In 1934, Adolf Hitler gave the order to Ferdinand Porsche to develop a vehicle that could transport two adults and three children while not using more than 7 liters of fuel per 32 mpg.
The engine had to be powerful enough for sustained cruising on Germany's Autobahn. Everything had to be designed to ensure parts could be quickly and inexpensively exchanged.
The engine had to be air-cooled because, as Hitler explained not every country doctor had his own garage.
Antifreeze was only just beginning to be used in high-performance liquid cooled air-craft engines.
In general, water in radiators would freeze unless the vehicle was kept in a heated building overnight or drained and refilled each morning before commuting.
The Beetle featured a rear-located rear wheel drive, air cooled four-cylinder engine in a two door body work featuring a flat front windshield providing luggage storage under the front hood and behind the rear seat.
The shape of the beetle streamlined due to the tapered rear end, attached with 18 bolts to its nearly flat chassis which featured a central structural tunnel.
Front and rear suspension featured torsion bars along with a front stabilizer bar providing independent suspension at all wheels.
Its engine, transmission and cylinder heads were contracted of a light alloy engine ensured optimal engine operating temperature and a long engine life…
While the overall appearance of the Beetle has changed little over the years, it received over 78k incremental changes during its lifetime production.
It's worth mentioning a small list of other very cool cars that were featured in the film.
1963 Apollo 3500 GT
1966 Chevrolet Corvette
1957 Chevrolet 210
1956 Ford Custom line
1929 Ford Model A
1960 Ferrari GT Berlinetta
1963 Ford Galaxie
1923 Ford Model T
1961 Jaguar XK-E
1955 Rolls-Royce Silver Wraith
1963 Triumph Spitfire
The Beetle: My Favorite Volkswagen
At any rate, it would be a few years after seeing The Love Bug before I had my first actual encounter with a Volkswagen.
The year was 1984. When I was given a choice to purchase my first car, a 1962 Beetle or a 1971 Super Beetle from my high school auto body teacher.
I ultimately choose the 71 Beetle. It had a rebuilt 1600 Dual port motor and at $250.00 it was a great first project that took my two and a half years to complete.
I had many good times in that Bug. Since then, I've owned over 25 VW's of various models, but the Beetle will always be my favorite.