1979 Chevy Camaro Restoration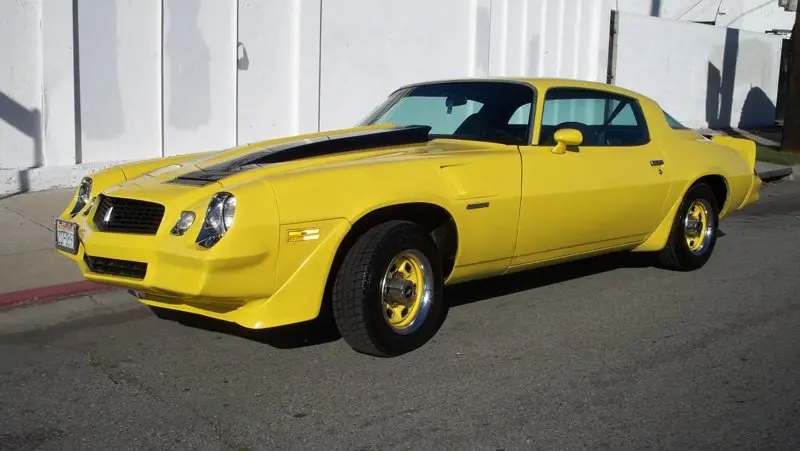 Following is a recent 1979 Chevy Camaro restoration we did. Our client's unabashed love for the "Bumble Bee" from the Transformers movie was the inspiration for this particular build. The car was given as a gift to the client by a close childhood friend who had passed away and had always wanted to restore this second generation Chevrolet to its former glory.

The car had already gone through a V8 engine conversion and needed something more than just a shiny paint job to bring her back to life. The decision was made to use the "Z28" body kit consisting of the wheel well flares, fender vents, spoilers and last a fiberglass hood.
Before we began the paint phase we created several mock ups of stripe patterns, first going with a kit, then realizing it would never work with such an aggressive 4 inch cowl and finally drawing by hand to achieve a more symmetrical finish. This particular yellow was chosen to allow the car become animated, grabbing everyone's attention as it cruised down the sunset strip.
When we began the upholstery the client wanted a cost effective, durable look that was tasteful to the eye while being easy to clean, the original dash had several spider cracks and the seats were in rough shape, removed the dash and had it redone, replacing the instrument panel from Classic Industries.
We then pulled the seats out to have them done in black vinyl with yellow piping. The console was removed so that we could clean and repair the old shifter then replace with fresh shift components from Year One.
The last touch was having the rims powder coated yellow to match the Camaro, then replacing the center caps which we found was next to impossible to find until we found four great NOS center caps at the Pomona Swap meet which is the west coast's largest antique auto, car show and swap meet, they have seven shows per year designed especially for classic car enthusiast, the events are held at the fairplex in Pomona, California.